DNA of Design from Andy and Deb
Introducing our current Design Partners, Andy and Deb!

Together, with their team at DNA of Design, they have been transforming the Aitkin's 1980's Gold Coast family home into a stunning contemporary retreat.
Fan favourites on 2019's season of The Block, Andy and Deb are documenting their design and renovation journey with their DNA of Design video series.
Located near the iconic beaches of the Gold Coast, Andy and Deb wanted this house to feel like you are on holiday, all year round.
Drawing inspiration from the cruisy Queensland lifestyle, this home pays tribute to the beautiful hinterland surroundings. This is accomplished with an effortless flow between the living room, alfresco dining, and a Palm Springs-esque pool area, blurring the lines of indoor and outdoor living.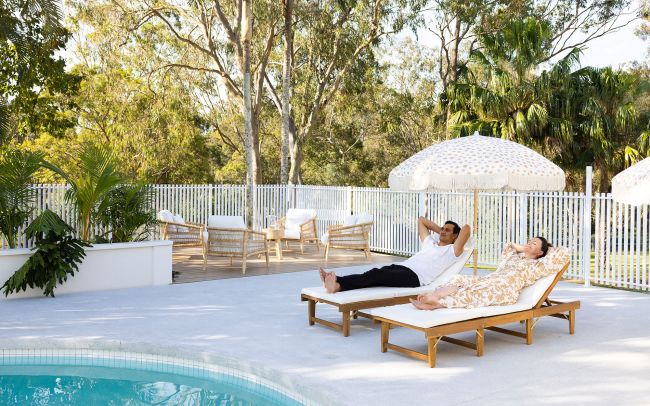 The Californian pool space, merging ever-so easily with Queensland flora.
In a nutshell, this space embodies luxurious, relaxed living – with the functionality of a family home.
"We have also woven some Californian style into the home paying homage to owner Suzie's homeland," Deb explains. "Then we added just a touch of farmhouse to round it all off!"
Andy and Deb's earthy, soft and natural design style marries neutral cream and beige tones with effortless and warm texture throughout.
Building the foundation for this pairing of texture and tonal palettes, they chose Tranquil Texture, a wool carpet, for the bedrooms and cosy spaces.
"It's a natural fibre which fits in with our natural style," Deb says. "Once it was laid it felt incredible to walk on too, making each room beautiful to look at but comfortable too."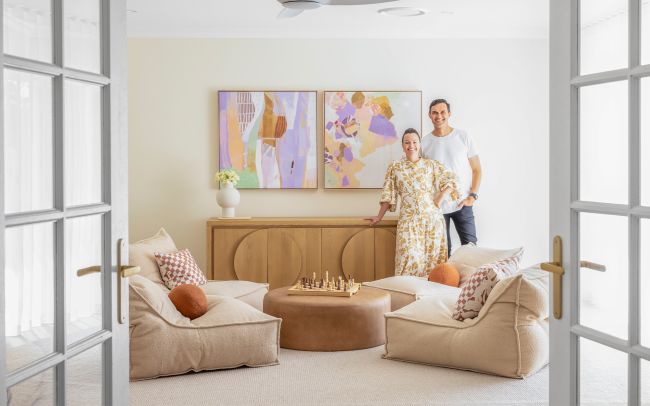 Who said rumpus rooms had to be boring?
To begin their process, Andy and Deb created mood boards with product samples to experience how each design element would interact together.
Aiming for a colour palette of caramel hues and honey blondes combined with the soft contrast of white feature stone and walls, they decided on timber hard flooring, Chateau Oak.
"This helped us to see everything together and experience the colour, shape, and feel of each sample. After this process, we knew that Chateau Oak added depth, colour and interest."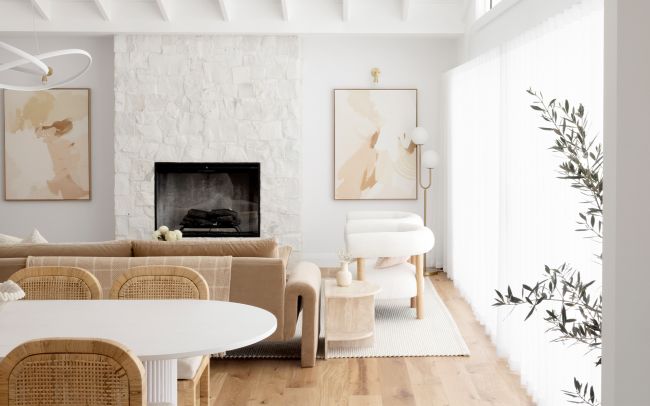 The Aitkin's open living and dining, complete with engineered timber flooring.
The subtle flecks of golden detail in the white feature stone offered a strong connection to the deeper colours in the knots and grains of the timber flooring, adding a coastal character.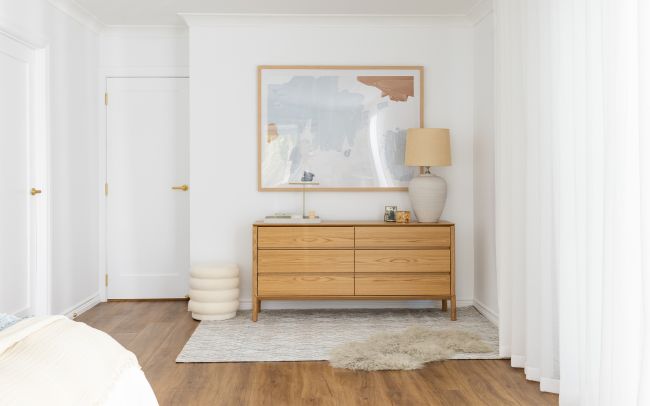 Natural timber flooring, accompanied with a warm and cool colour pallet.
When asked for renovation advice, Andy and Deb site communication with trades and suppliers as a key strength.
"There are no silly questions so ask anything and everything to prevent potential mistakes down the line."
Andy and Deb's successful design team comes down to a positive outlook and willingness to be flexible, especially when things do not always go to plan. Plus, having a comedian on hand is always recommended.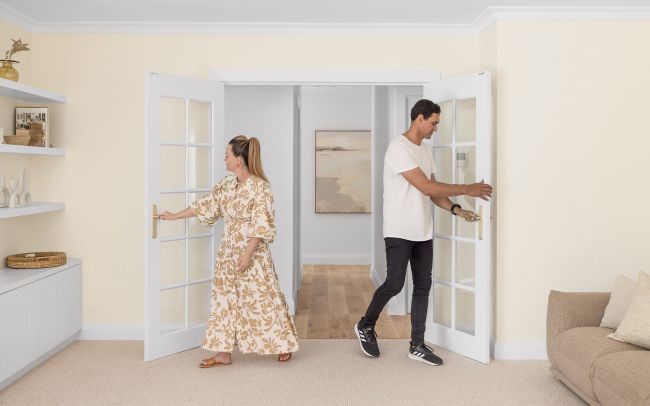 The cosiest of rumpus and media rooms.
View the products mentioned and follow along with Andy and Deb's DNA of Design journey via the links below:
DNA of Design series
@andyanddeb
@dnaofdesign_