PayPal Melbourne Fashion Festival 2023 x Godfrey Hirst
The Featured Product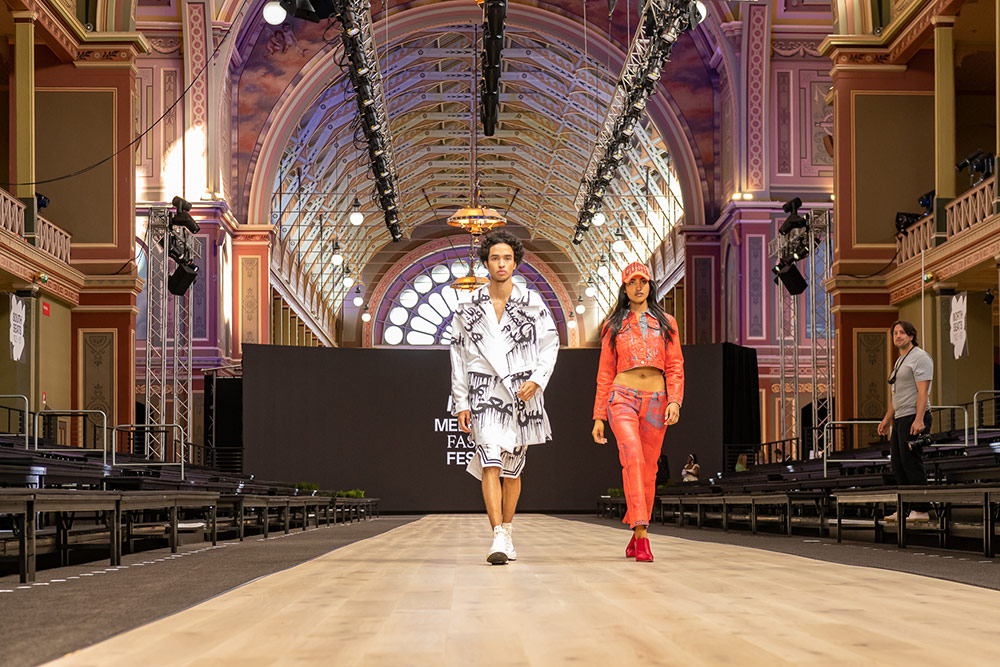 Godfrey Hirst along with GH Commercial are proud to be supporting partners of the PayPal Melbourne Fashion Festival 2023. As a local manufacturer, supporting local events is important to us and allows us to collaborate in community events in our area. At Godfrey Hirst we have a passion for design, so partnering with the PayPal Melbourne Fashion Festival 2023 is the perfect opportunity to align our values and celebrate creativity and art.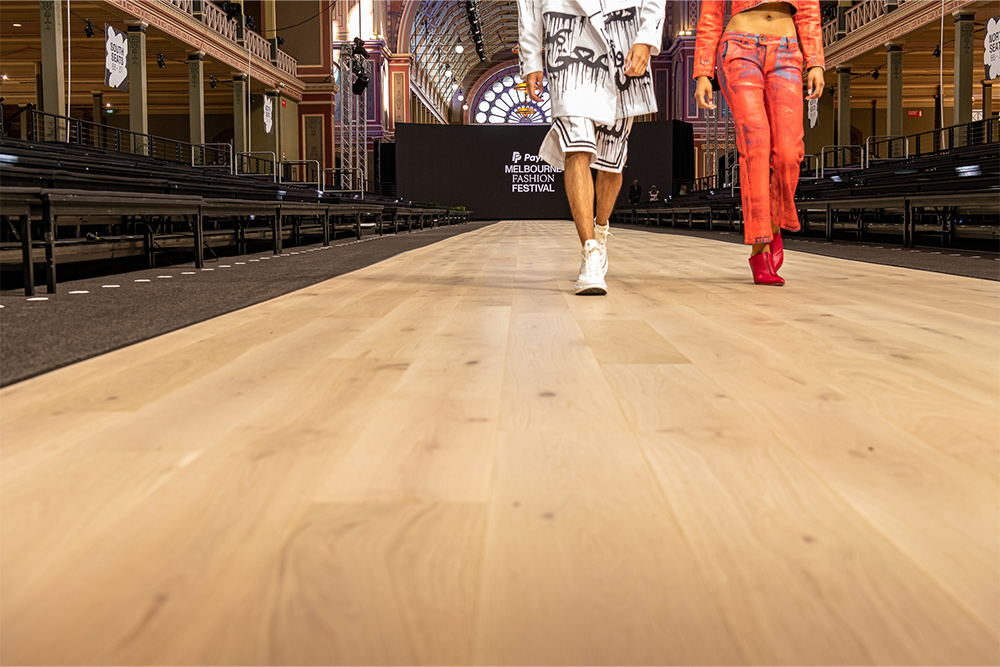 To create the luxurious runway within the Royal Exhibition Building, an engineered timber product, Corsica Oak in the colour 510 Coastal Oak, provided a centre stage for the festival's premium runway events. The Corsica Oak runway is paired with a sleek black solution dyed nylon cut pile twist carpet, Timeless in colour 795 Black Magic. Timeless is utilised in the surrounding areas to ensure that the runway is the focal point of the space.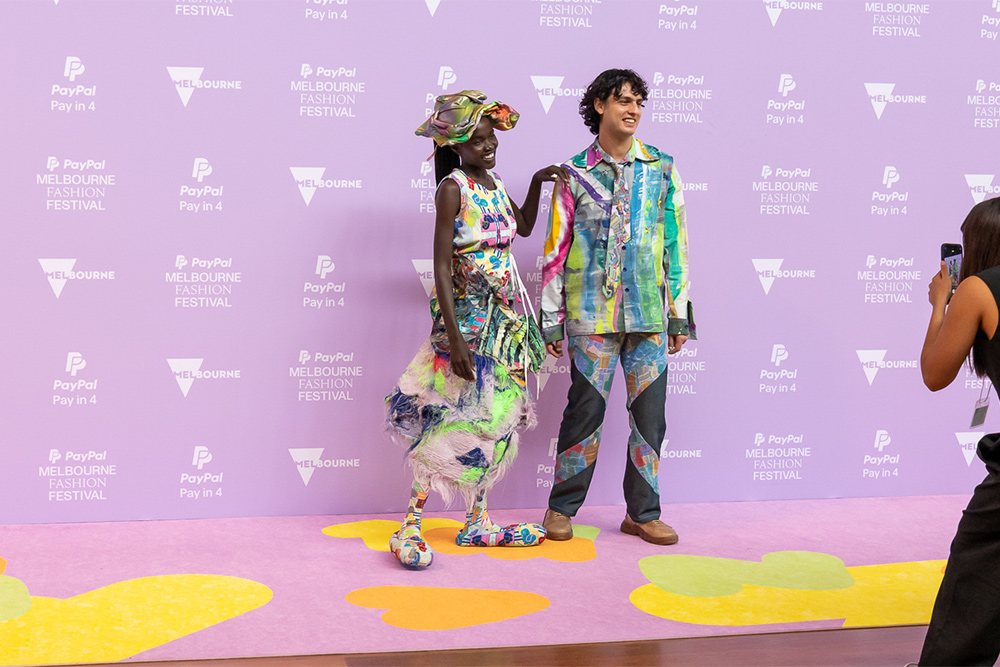 Designer Jet® is a world-class custom carpet technology for creating an infinite array of colours and bespoke designs you would never have thought possible in a carpet. It works by taking any striking pattern, drawing or image and using precision engineering to inject the dye into the carpet, offering a flexible, creative and performance driven carpet solution. PayPal Melbourne Fashion Festival required a bespoke carpet runner to pair with their media wall that could encompass their vibrant brand colours. A custom design was required to create a vibrant design where guests could be photographed that could incorporate required branding elements. Designer Jet® provided the ideal flooring solution and enabled the team at PayPal Melbourne Fashion Festival to work alongside GH Commercial's design teams to meet the desired brief.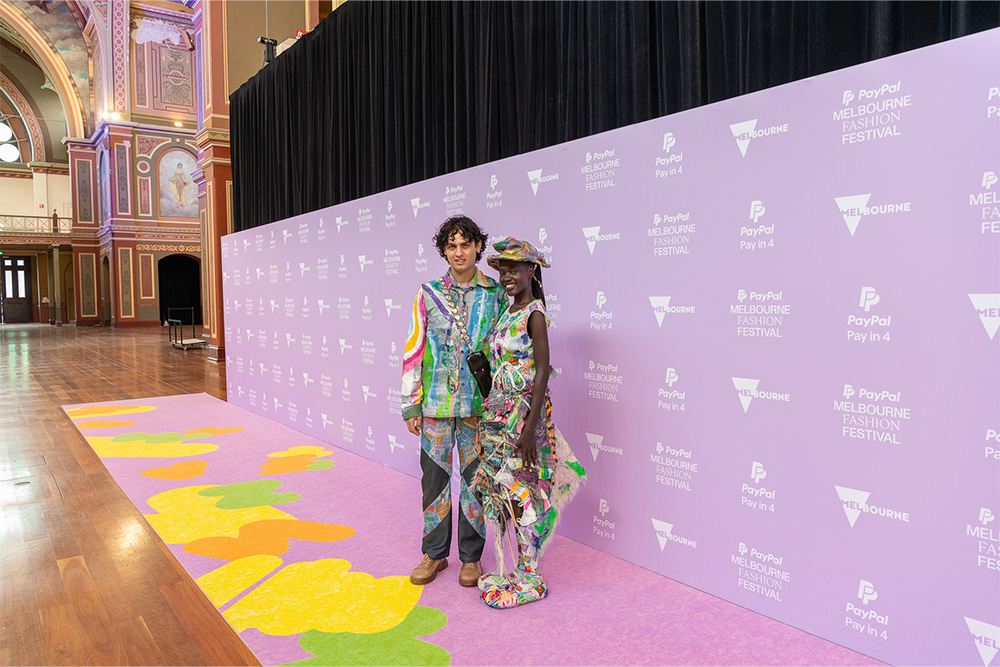 The Festival
PayPal Melbourne Fashion Festival is an annual celebration of Australian fashion, arts, ideas, and creative endeavour for everyone to enjoy. The festival presents 9-days of world class runways featuring Australia's most loved designers. In aim to joyously and consistently deliver an unrivalled, world-class event that celebrates and elevates every aspect of fashion and creativity, proudly demonstrating Melbourne's rightful fashion leadership mantle in Australia.
Creativity and design are celebrated in an outstanding event that includes an array of exhibitions, events, workshops and experiences. Godfrey Hirst are proud to come on board as a supporting partner to the PayPal Melbourne Fashion Festival 2023.
PayPal Melbourne Fashion Festival 2023 is packed with a multitude of experiences across this bespoke event supporting and celebrating Australian designers and artists that proves to inspire the masses. With the event launching 3rd of March, PayPal Melbourne Fashion Festival 2023 promises a world class event with over 100 fashion events being held across a range of 60 venues all located in Melbourne.